Kaleidoscope Fighting Lupus is joining organizations all across the United States in celebrating Lupus Awareness Month with events, fundraising and social media.  Help us spread the word about lupus and those living with it – so that one day, we can find a cure!
 Community Partners
The Baker's Mark and Coopers Hall are once again partnering with us in advocating for those living with lupus, They are donating a portion of their sales on May 10th to our programs.   It is a wonderful opportunity for you to dine, donate and make a difference!
10% of sales on World Lupus Day will go to our programs in service of those living with lupus. Why not take a really big bite and buy two sandwiches for twice the support.     
1126 SE Division, Portland, Oregon 97202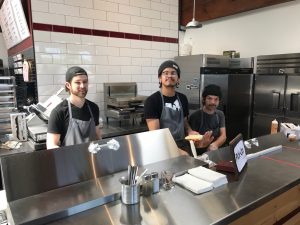 Thank you everyone at The Baker's Mark for all of your support and a successful community fundraiser on May 10th!
On World Lupus Day, 10% of all rosé sales go to our micro grant program that provide assistance to those in our lupus community in need. Drink Pink and make a difference!
404 SE 6th Ave. Portland, OR 97214    Hours: 4 pm -10 pm  www.coopershall.com
Thanks to Coopers Hall for their incredible support and fundraising during World Lupus Day!!
Lupus Awareness Events

This event honors all those affected by lupus. So come ride with us and help raise money and awareness, while raising your heart rate.
When: 11 am, Sunday, May 19th
Location: 375 2nd Street, Lake Oswego, OR 97034
Sign up online by clicking HERE  and click on "Sign Up Now" for the Lupus Awareness Donation Ride.  $15 Donation.

Our heart-felt thanks to everyone who participated in the Ride!!
Portland Oregon Support Group Dinner
On May 10th , Kaleidoscope Fighting Lupus celebrates our own local support group members with an intimate dinner at the Bottle + Kitchen, a local favorite renown for serving globally inspired, locally refined food.  Located in the Hotel Rose near the Morrison Bridge in downtown Portland, Oregon, this event is a wonderful opportunity for our lupus community to come together to share stories, celebrate each other as well as honor those struggling with lupus every day.
We thank the Bottle + Kitchen for their sponsorship of this event!
Lighting Up the Morrison Bridge
The Morrison Bridge in Portland, Oregon will shimmer in radiant teal and purple for the night of May 10th!  Teal is our own Kaleidoscope Fighting Lupus color and purple is the official color of lupus … and both will be on display that evening.  We thank the Willamette Light Brigade for their help in this effort! 
We also thank West Linn Hairport – our sponsor for this event!
The Window at The Nines
Kaleidoscope Fighting Lupus will be once again featured in the windows at The Nines Hotel for the entire month of May, celebrating Lupus Awareness Month.  This high-visibility, downtown Portland exposure gives us the opportunity to raise even more awareness for lupus and those living with it.  Make sure to stop by The Nines Hotel at 525 SW Morrison Street, Portland, Oregon and see it for yourself.
This window is sponsored by The Nines Hotel and Lauren Hasson of the Hasson Company.  We thank both for their support!
---
---
2018
This year, for World Lupus Day, we're partnering with Lupus UK to spread awareness and reach out to a global community! 
This year on May 10, 2018, we want to raise awareness of this disease. By not being aware of lupus people are more likely to experience a delay in getting a diagnosis. A delay in diagnosis can have life threatening results. 
Kaleidoscope Fighting Lupus and Lupus UK would like you to help with this awareness campaign. Please share your experiences of the first time you heard about lupus by completing the following:
– Share a high resolution photo or image
– Tell us your story
– Share using the hashtags #WorldLupusDay and #LupusAwareness
Please share your story with us at Stories@KFLupus.org so we can raise awareness by sharing it with our supporters through our social media channels (Facebook, Twitter, & Instagram ). 
The Girl with Kaleidoscope Eyes
 The inspiration for this work of art, has a connection with both the name, "Kaleidoscope," and the disease, lupus.  In 1967, when John Lennon was working on The Beatle's album, " . Peppers Lonely Heart's Club Band," his son, Julian, 4 years old at the time, drew a picture of his friend and classmate, Lucy O'Donnell (later Lucy Vodden) and called the drawing, "Lucy in the sky with diamonds."  John took this inspiration for the song, added the phrase, the girl with kaleidoscope eyes, and the rest is history.  Later, Lucy O'Donnell was diagnosed with lupus and died from the disease in 2009.  We hope to honor her memory as we raise awareness for the disease that took her life.
Dennis Cunningham was commissioned to create this work of art for Lupus Awareness Month by Kaleidoscope Fighting Lupus.
Dennis is an acclaimed artist from Portland, Oregon USA. His graphic mediums of choice, for three decades, have been block-print and pastel. He has been a strong advocate for the arts and for those living with lupus.
Windows at The Nines Hotel

The Nine's Hotel has graciously gifted Kaleidoscope Fighting Lupus with its street level window for the full month of May. This high-visibility, downtown Portland exposure gives us the opportunity to raise the much needed awareness for lupus and those living with it.  You can enjoy the window, artwork, and valuable information beginning May 1 – 31, 2018 at The Nine's Hotel, 525 SW Morrison St. Portland, Oregon 97204.
Light It Up Purple 

Kaleidoscope Fighting Lupus, Lupus Research Alliance and Sisters Against Lupus invite you to join us in Seattle, at Pier 57, for our annual Light IT Up Purple rally. It is an evening of raising awareness, community building and fun. 
Lighting of the Morrison Bridge
Kaleidoscope Fighting Lupus has worked in partnership with the Willamette Light Brigade to bring awareness to those living with lupus. The Morrison Bridge in Portland, Oregon will shimmer in radiant teal and purple to reflect Lupus Awareness Month in May and World Lupus Day on May 10th. Teal is the official color of Kaleidoscope Fighting Lupus, and the bridge lighting honors those living with lupus.
Wine With Us
Join us for an evening exploring Oregon-only, small-barrel wines with expert guides, hosted by the Staff and Board of Kaleidoscope Fighting Lupus! Seating is limited. Contact us at info@kflupus.org to RSVP.
Riders For A Cure

Join the Riders For A Cure crew for a 100+ mile ride to raise money in support of Kaleidoscope Fighting Lupus. They'll be riding out, rain or shine, on Saturday, May 12 at 9:30am. Meet at the Arco on highway 308 and Viking, and get excited for a new route this year!
Going Viral
It's that time of the year ladies and gents! The 2nd annual Lupus Awareness Stream Week is here! 7 days of giveaways as we raise awareness for a good cause!  This year's theme is Resident Evil, so be ready for a week of games like RE0, The Forest, 7 Days to Die, Dying Light, and MORE!!!!   All Proceeds to Benefit Kaleidoscope Fighting Lupus. Last year we raised $1400, the goal this year is $2500.
May 14 – 20, 7pm to 10 pm at twitch.tv/the_irish_pickle 
Janice_says will be streaming as well, keep an eye out for her stream schedule!
IF YOU WOULD LIKE TO BE A SPONSOR:
Send a PM, or email Mo Tomoko at Mosenpai@gmail.com
 Burn Cycle + The Lab
All Month Long
Be sure to check back on all of the Kaleidoscope Fighting Lupus social media platforms for new memes and hashtags to bring increased awareness to lupus during the month of May. Share it! Like It! Retweet it! Help us to spread the word about lupus and to ensure that no one has to face this disease alone.